Wire rope sheave are widely used in lifting the transport machinery, port machinery, shipbuilding, grab, wire rope sheave, construction and other industries.According to texture and molding way it is divided into casting iron pulley,casting steel pulley, rolling pulley, weld pulley, forged pulley, and nylon pulley. The casting pulley mainly include cast gray iron pulley, cast nodular cast iron pulley; the gray iron pulley have advantages of good cast technology, small abrasion of wire rope, but it is low strength, and short use life, usually used for low grade work environment; the nodular cast iron pulley have advantages of high strength, good impact toughness and good abrasive resistance, but its surface hardness is higher and will have serious abrasion of wire rope, normally will be used for higher work environment. Cast steel pulley have high strength and banlanced performance, use life is long, and it is widely used for production.
The rolling pulley's structure is resonable, strength is high, use life is long, and appereance is beauty, self weight is light(Lighter 40% than cast pulley) can reduce raw material. The rolling pulley apply good steel make numerical cut, and highly temperature rolled on pulley rolling mill, then apply Ar+Co2 gas protect automatic welding weld hub,thermal annealing, make shot blasting of surface,finally work it out. When there is nonstandard pulley with heteromorphic structure should use weld pulley can realize the requirement. Such as double web angles pulley, the pulley's race after rolling should make double web angles and hub, finally after anealing, flaw detectioin, finished production end the production. Besides, for the pulleys which need increase the strength after rolling, or reinforced plate, need weld tiepiece on both side's web after finishing rolling the structure, so that can realize increase strength and rigidity. The nylong pulley have advantages of light weight, good corrosion resistance, good abrasive resistance, self lubrication, and insulation, now is widely used for many cranes, such as European type crane, insulated crane, tower crane, elevator,steamer, subway etc. With the development of high polymer material, the nylong pulley's development and usage will have wonder future.
The rolling pulley's production period is short, and quality is high, which is our main products. We can make all kinds of rolling pulleys Φ250mm-Φ1600mm, the material have Q235B,Q345B,1045,42CrMo. The port use polling pulley need quench the wire rope race, we use 1045 steel surface quench, and the rope race's hardness can reach HRC40-55, the deepness ≥2mm. The rope race's surface is smooth and wearproof, then can prolong the use life 1/2 times longer. At the same time, the finished production can ensure pulley diameter runout 1/1000D, face runout 3/1000D. For example for ZPMC port crane pulley.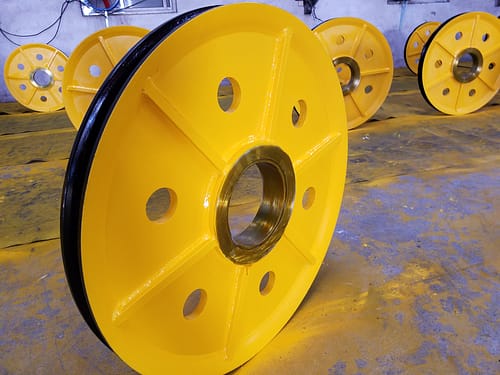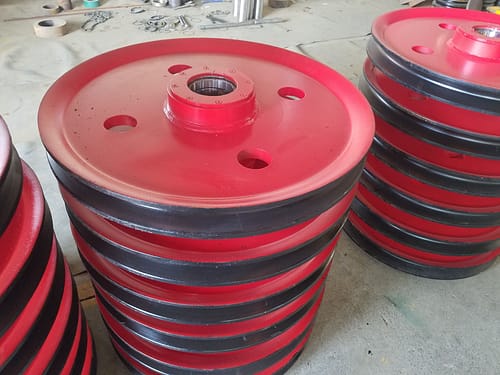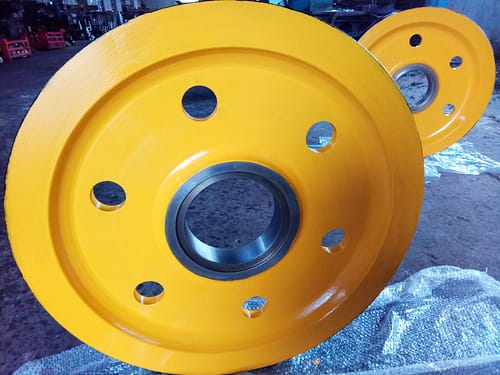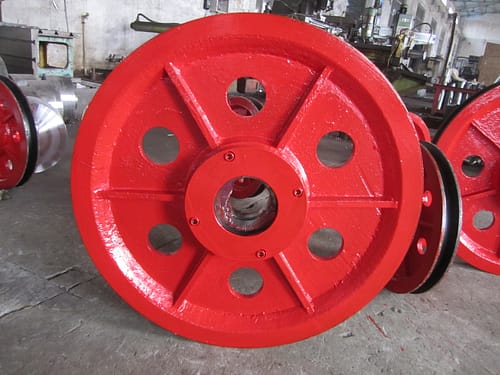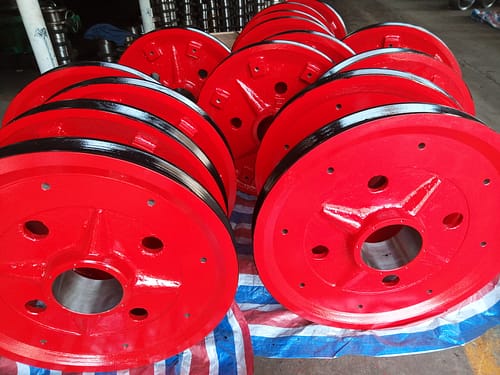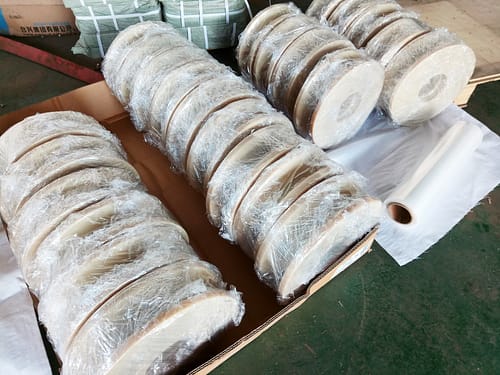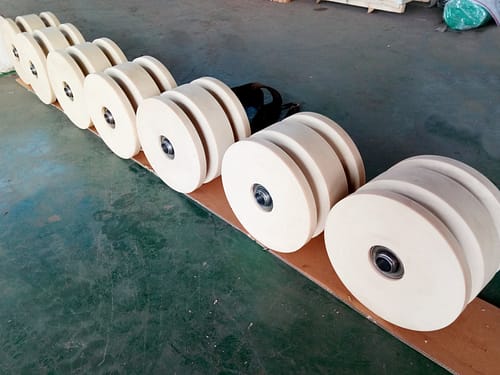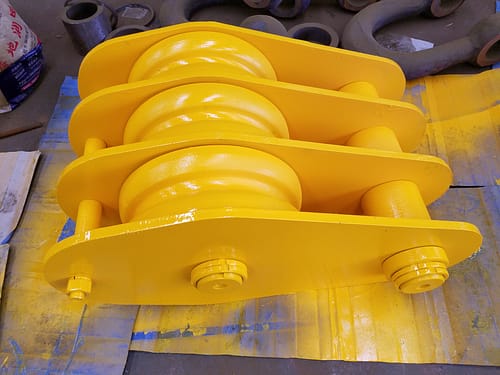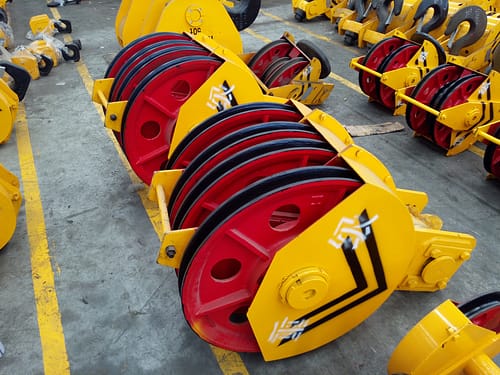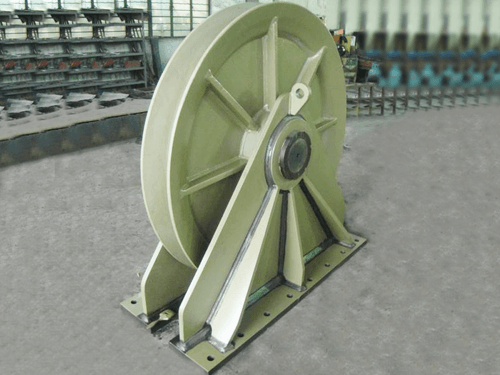 Technical Parameters
wire-rope-sheave
About Technology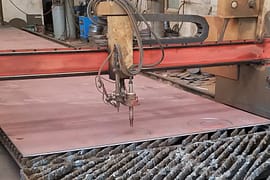 CNC cutting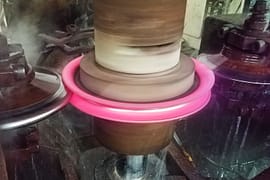 Rolling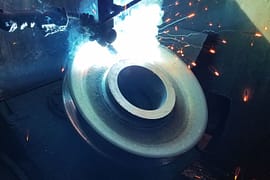 Auto welding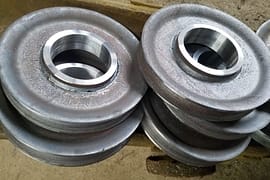 Shot blasting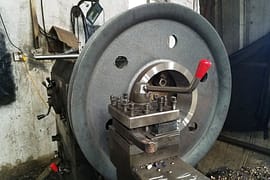 Finish machining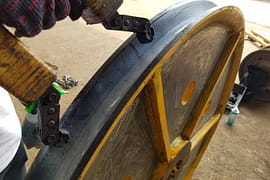 MT test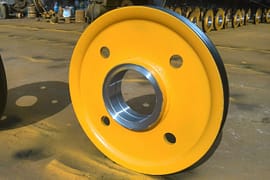 Paint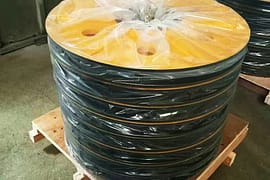 Packing