Mining wheels and kiln car wheels are mainly single wheels. The wheels mainly used for various bucket type ore truck, shuttle type ore car, mining flat plate car, side unloading type ore truck, etc. The finished products are mainly wheel sets and wheel sets form. The main material of mine wheel is cast steel, its mechanical properties is σb≥650N/mm2, σs≥300N/mm2. The wheel shafts and end covers use 45# steel (equal to 1045 steel). Kiln car wheels mainly used in the production of bricks, ceramics and other tunnel kiln cars and ferries. The wheel of kiln car has two kinds of forming methods: casting and forging. The casting wheel is made of casting carbon steel, which has excellent performance and is suitable for high temperature roasting kiln car. The forging kiln wheel has high manufactured efficiency, high tensile strength and high fatigue strength, which has a strong supporting for the kiln car in the high temperature roasted kiln.
The mining car wheel manufactured by our company, uses the precision lathe processing, the wheel tread surface adopt quenching treatment, the surface hardness is greater than HB 300, the wheel can not only satisfy strength request, but also has well wear-resisting performance. The integral mechanical properties of kiln wheels greatly improved by using integral heat treatment, which well applied in the environment of high temperature tunnel kiln. Our products are of excellent quality, exported to America, South Africa, Brazil, Greece, Portugal and other countries.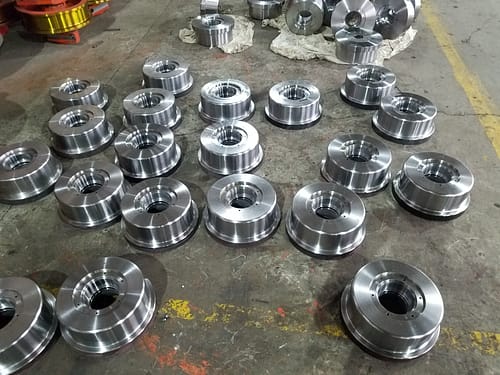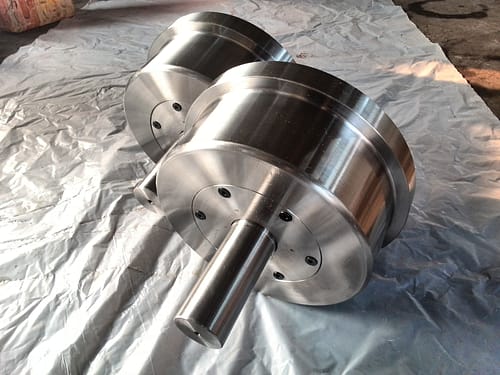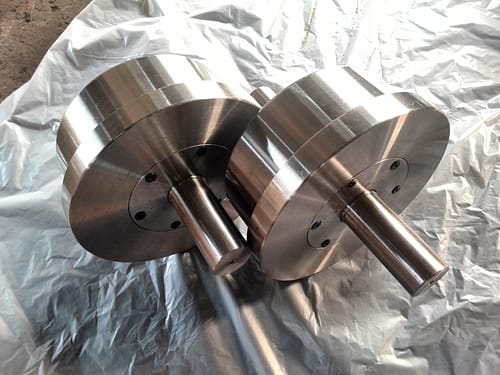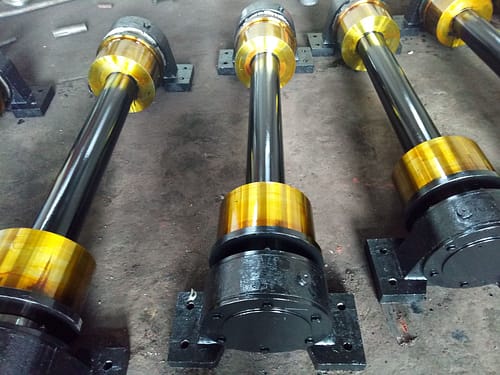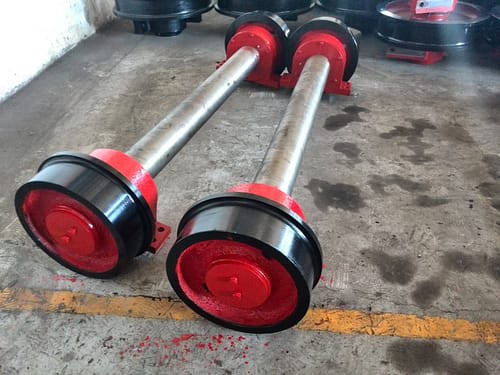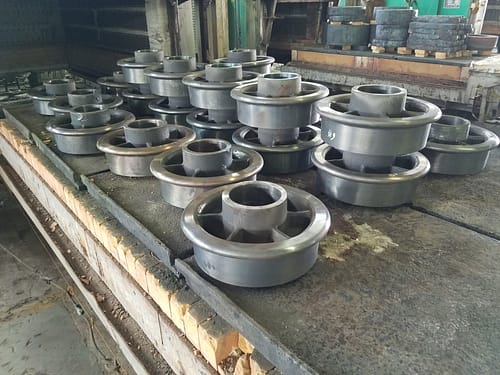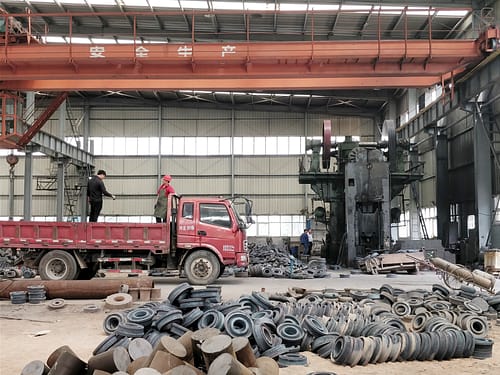 Application Mining & Kiln Cart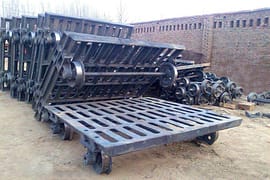 Dry Cart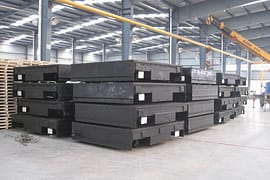 Kiln Cart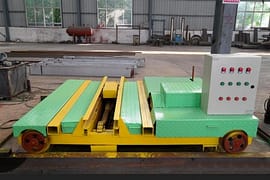 Shuttle Cart
Characteristics and Model of Mining Cart Wheel Sets
Characteristics of Mining Cart Wheel Sets:
The inner side of the mine wheel has a flange, and there is a gap between the flange and the rail. The tread of wheel contacted with rail is conical shape in order to keep the wheel pairs in alignment along the track, which can not only reduce the mechanical wear, but also reduce the running resistance.
Mine wheels are divided into cast iron mine wheel and cast steel mine wheel
Wheel base: a mining car has two sets of mining wheels, the distance between the front wheel set and the behind wheel set, in which the 1.5 ton mine cars are in the same wheel base. But for 3 ton miner because of its bottom handling, so the distance between the front and behind wheel sets is longer than the gauge.
Model
Volume (m3)
Load
Max weigh of load
Gauge
Wheelbase
Tread
Traction height
Outer width of axle
The Traction
center distance
Buffer type
Allowable
traction (KN)
Dead weight
(≤KG)
MGC1.1-6A
1.1
1
1.8
600
550
300
320
808
1830
single-row spring
58.8
610
MGC1.1-6B
1.1
1
1.8
600
550
300
320
808
1790
double-row spring
58.8
610
MGC1.7-6A
1.7
1.5
2.7
600
750
300
320
828
2230
single-row spring
58.8
740
MGC1.7-6B
1.7
1.5
2.7
600
750
300
320
828
2190
double-row spring
58.8
760
MGC1.7-9
1.7
1.5
2.7
900
750
350
320
1150
2200
double-row spring
58.8
980
MGC3.3-9
3.3
3
5.3
900
1100
350
320
1150
3250
double-row spring
58.8
1320
Application Field